We live in an increasingly digitized world and that world is becoming increasingly dynamic and complex. The number of social media platforms available, with their multi-aspect ratio (m:atio) requirements, and importance to businesses continues to increase. Everyone has their favourite and even within these apps we, as consumers, have preferences.
In fact, social videos get shared twelve times more often than text and images combined.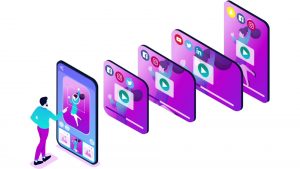 I hear your brains whirring:
"But quality video is difficult. Difficult to make and difficult to ensure the video size is appropriate for the chosen platform."
However, almost all of the popular social media platforms use more than one aspect ratio and to maximize the effectiveness of your content you need to be well versed in the differences, and be familiar with an aspect ratio video editor that can help you optimise video content for your chosen platform(s).
If you have the budget you may invest in an Instagram video creator, a YouTube video editor, or TikTok video editor. But when you think of the need for an active presence on all platforms (and the different aspect ratios used) the cost can rise quickly. As an alternative, Cerebriam's m:atio technology (a portmanteau of multi-aspect ratio) can help you quickly make multiple aspect ratio videos in a few clicks. It even helps you select the best aspect ratio for your chosen platform.
Below is a quick review of popular aspect ratios (video size or dimension) on frequently used social media platforms. Use this information with your aspect ratio video editor to create the most effective content.
Aspect Ratios & Their Platforms

16:9 is a landscape aspect ratio commonly seen on YouTube, Twitter, and LinkedIn — as well as on your HD TV. When utilized on YouTube, Twitter, and LinkedIn the video will display nicely on a mobile device. However, if you upload non-16:9 video to platforms which only use 16:9 aspect ratio, the platform will automatically add large black pillar boxes on either side, thus destroying your composition, and distracting from your content.
9:16 is a vertical full-screen aspect ratio used on Snapchat, Facebook, Instagram, and TikTok. Think of this as your full phone screen. With Facebook and Instagram, you will see this most commonly on Stories and not in the feeds. If you're interested in reading more about vertical editing, check out our blog here.
4:5 is a vertical aspect ratio which you will see in the feeds of Instagram and Facebook. It is the larger of the two options for in-feed presentation, however, it does not occupy the full screen of your phone.
1:1 is a square, most commonly associated with the Instagram feed, however, with the ability to link Facebook, Twitter, and Instagram it is now present across many platforms. Aesthetically pleasing and compact, however not great for content that requires a view of the full body or the environment of the subject.
Conclusion
By using Cerebriam's patent-pending m:atio technology you can easily make a video in vertical (9:16, 4:5), landscape (16:9), and square (1:1) aspect ratio without compromising your content or driving yourself crazy with a million apps. Just make your selection, and we'll do the rest. That's m:atio! It is the best aspect ratio video editor, giving you multi-aspect ratio videos, without any technical work on your part. You're welcome :-)!