TikTok was originally released in 2016, but 2020 was its big year. The number of active users have been on the rise since lockdown, with random dance crazes, dalgona coffee and the creation of a whole new range of influencers. With over 800 million users worldwide it's ahead of Pinterest, Twitter and Snapchat! If you've been unsure how to start we're here to help create video for TikTok.
Demographic
Unsurprisingly 41% of its users are aged between 16-24 with the male to female ratio being 56% to 44%. Hence the use of 3-15 second long videos, short and concise is the key. The app customises the content you see based on videos you've liked, how much you watched of it and who you follow. Creating the best 'for you page'. Your goal is to appear on peoples 'FYP' and have them view your content.
Active User
On average people spend 52 minutes on TikTok per day, 90% of the users have recurring visits to the app.
68% of people spend their time watching other peoples video and 55% upload their own. So we can gather that a lot of people like to spend their time on TikTok, or creating for it. Within the UK they have over 3.7 million users and 26% of these users are between the ages of 18-24, so if this is your key demographic, you've hit the jackpot.
Time is Everything 
Most people promoting content on TikTok keep it short, that's the whole point; right? There's no need to beat around the bush. You have 15 seconds so make it count. To increase engagement, hashtags, using popular audio, and linking other socials work well to drive people to your page. The more people who view your content, the greater your potential audience in terms of FYP.
Vertical Video 
TikTok is simple, they use the 9:16 full vertical aspect ratio only. The big benefit of this aspect ratio is that it occupies the entire screen of a vertically held mobile. Using lines to frame your shot and cutting between different shots allows you to control where you want viewers to look. Headline-type text is common, you can use it to highlight topics or direct the viewer's attention to something.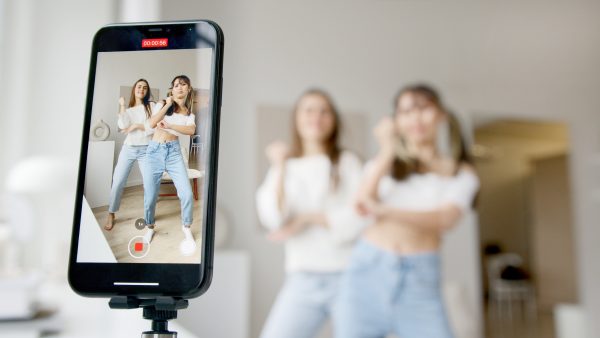 Small Business Case Study: Own Your TikTok Presence Like Eash
A UK based artist who sells her oil paintings as prints, iPhone and laptop cases promotes her work via TikTok. She currently has a following of 71k and 1.7 million likes. Eash shows behind the scenes of her painting, and uses trending audio to stay relevant. She uses hashtags and creates 'how to' videos for her followers to keep them engaged. She also guides her viewer's gaze with her brush and by doing so gets them to focus on certain points of their screen.
If you want to optimise your content for TikTok but are unsure about how to make the most of your vertical space, Cerebriam Studio's software can help with just that. The Studio not only helps you create vertical optimised video, but will also help you use your master video to make square and vertical aspect ratio videos too. To find out more click here!