Video is everywhere. It's the language of our personal and professional experiences. A study showed that 87% of video marketers attribute video with an increase in website traffic.
However, not all video is created equal. The difference between quality video and amateur video can be the difference between you and your competition. Cerebriam Studio is currently offering free video editing software. We want to help you create the highest quality video possible, for the least amount of hassle and stress.
Would you rather be in business with a company that has professional-grade video content or a company with inferior amateur quality?
But what exactly makes a "quality video"?
Well, would you rather watch a movie in crystal clear HD with amazing surround sound or on a small screen that distorts the image and sound that is muffled? You know good quality when you see it and that is why the quality of online videos can "make or break your image."
Would you rather be in business with a company that has professional-grade video content or a company with inferior amateur quality? Perhaps you are a new Instagram video creator or LinkedIn video maker and aren't sure where to begin. Read on to learn about two integral aspects of quality video: resolution and sound.
Resolution
Resolution is measured by the number of pixels or dots in a linear inch (PPI), or in layman's terms, the number of pixels currently on your screen. And while you might be thinking more resolution means better image quality, you'd be wrong. What's more important is the resolution's compatibility with the device it will be viewed on. While 4k and 8k might be the standard for TVs and projectors, they have little positive impact when viewed as mobile video. The best resolution for mobile devices is 1080p HD. If you have quality lighting 720p HD will work as well. If you have the opportunity to work with 4k, go for it (it gives you more editing options in post-production), but know it will eventually have to be downscaled to 1080p or 720p.
Sound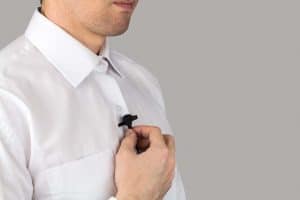 There is one very quick way to improve the quality of your audio: use a dedicated microphone. There are many ways to trim your budget when shooting. You could borrowing a friend's camera, beg your cousin to let you film in their fancy flat, use free video editing apps. However, remember, a mic is non-negotiable.
Try it for yourself. Set up your mobile device, go across the room and record yourself speaking. What you'll hear are the various buzzes, hisses, hums, echoes, and sounds that occupy your space. What you won't be paying attention to as a result of these sounds is your message. A microphone helps you to "connect and engage, not frustrate and push away." As Toby Lyles, a sound expert says, "You're sound should be a 'welcome mat' that invites the listener in for what feels like face-to-face conversation."
Whether you use a specific YouTube video editor or other free video editing software, ensure that they have quality video at the heart of their mission. We know we do.